A.O. Smith® 100123266 ATI-310 Tankless Water Heater, Liquid Propane
A.O. Smith® 100123266 ATI-310 Tankless Water Heater, Liquid Propane
AOSATI310LP
MFG #: 100123266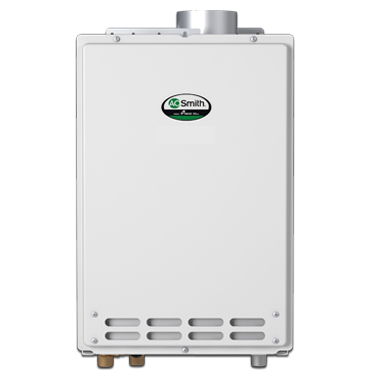 Commercial / Residential / Dual:

Dual

Energy Factor:

0.82

Flow Rate:

8 gpm

Heating Capacity:

190,000 BTU/hr

Indoor / Outdoor:

Indoor

Ultra Low NOx:

No

Vent Size:

4 in

Vent Type:

Power/Power Direct

Condensing / Non-Condensing:

Non-Condensing

Dimensions:

13-3/4 in W x 9-1/2 in D x 20-1/4 in H

Fuel Type:

Propane

Gas Connection:

3/4 in NPT

Ignition Type:

Electronic

Manufacturer:

A.O. Smith

Manufacturer #:

100123266

Pressure Rating:

15 to 150 psi

Series:

ATI-310

Water Connection:

3/4 in NPT
Fully modulating, gas fired, tankless water heater specifically designed for residential and commercial applications. Supplies hot water to domestic hot water systems and can be used with water storage tanks, recirculation systems, and/or combined domestic and heating applications.
Looking for model-specific repair or replacement parts? Enter the unit's serial number into the
A.O. Smith Parts Finder
.
A.O. Smith® Tankless Water Heater, Series: ATI-310, 190000 Btu/hr Heating, Liquid Propane, 3/4 in NPT Gas Connection, Electronic Ignition, Power/Power Direct Vent, 4 in Vent, Condensing/Non Condensing: Non-Condensing, 8 gpm, 0.82, 3/4 in NPT Water Connection, 15 to 150 psi, Ultra Low NOx: No, Indoor/Outdoor: Indoor, 13-3/4 in W x 9-1/2 in D x 20-1/4 in H, Dual
Built-in freeze protection
Manual reset Hi-limit
Easy link up to 4 units with no additional parts or accessories needed
Overheat cut-off fuse
Low emission
Inlet and outlet thermistors for constant temperature monitoring
Flame sensor
Vertical or horizontal installation
Power vent or power direct vent
The heater shall operate using 120 V/60 Hz power source
Copper heat exchanger
Certified from sea level to 6000 ft elevation
Remote Control and Power Cord