EAC1P-50/60C-50 EAC1P-50 Evaporator Coil, 4 to 5 ton Nominal, Cased Enclosure
EAC1P-50/60C-50 EAC1P-50 Evaporator Coil, 4 to 5 ton Nominal, Cased Enclosure
AAEEAC1P5060C
MFG #: EAC1P-50/60C-50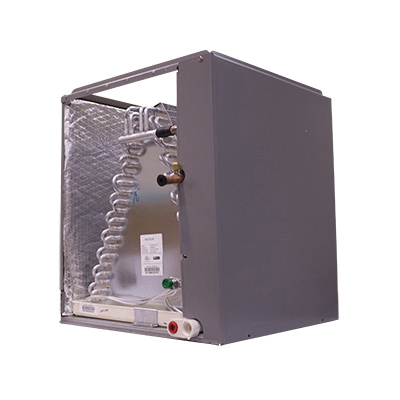 Enclosure Type:

Cased

Nominal Capacity:

4 to 5 ton

Refrigerant Type:

R-22/R-410A

Series:

EAC1P-50

Air Flow Type:

Upflow

Dimensions:

27-1/2 in H x 21 in W x 21 in D

Liquid Line Size:

3/8 in

Manufacturer:

Allied Air Enterprises

Manufacturer #:

EAC1P-50/60C-50

Metering Device:

Piston Expansion

Suction Line Size:

7/8 in

Tubing Material:

Aluminum
Omniguard™ Total Corrosion Protection technology combines advanced materials with a proven tube and fin design to deliver a coil with life-long performance. Improved protection against VOCs (aerosols, paint emanations and more) means your evaporator coil will last longer, making coils with Omniguard™ The Professional's Choice in coil technology.

Armstrong Air® Omniguard™ Evaporator Coil, Series: EAC1P-50, 4 to 5 ton Nominal Capacity, 1200 to 2000 cfm, Upflow, R-22/R-410A, Piston Expansion Metering Device, 3/8 in Liquid Line, 7/8 in Suction Line, Aluminum Tube, Cased, 27-1/2 in H x 21 in W x 21 in D
Omniguard® Total Corrosion Protection - The enhanced evaporator coil helps protect against leaks and corrosion for long- term performance. A fully-insulated cabinet and pre-bent duct flanges with rolled edges allow for a tight fit to existing ductwork, preventing heating and cooling losses.
Anti-Microbial Protection - Drain pans are infused with an antibacterial agent that destabilizes the membrane of microorganism cells, disrupting the cellular function of odor-causing mold and bacteria so that they can no longer grow or reproduce.
Matched System - Our evaporator coils are specially designed and sized to match Armstrong Air heating and cooling products. Removable cabinets and a single drain pan offer quick access and easy clean up for lifelong performance efficiencies. Plus, when you add a matching coil, you get a system that runs at peak performance while maximizing efficiency.
MHT™ Technology - Armstrong Air's proprietary heat transfer system. A specially designed fan shroud pulls air evenly throughout the air conditioner's coil surface. The coil features rifled tubing to enhance refrigerant flow, while lanced coil fins increase surface contact between metal and air. All combine for maximum heat transfer and efficiency.
Fully insulated cabinet - Wall-to-wall insulation ensures less than 2% air leakage increasing efficiency and energy savings.
External cabinet mounted distributor body designed for easy changing of orifice sizes and fast TXV connections.
Single protruding right side dual drain port for easy installation and service access.