---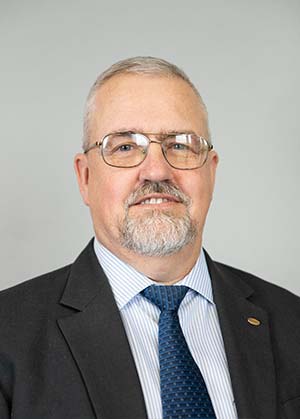 Madison, WI – On June 12, 2020, after 42+ years with First Supply, Mike Hickok will be taking another new adventure – retirement! We will never be able to replace the knowledge and wisdom that Mike offered to many areas of our business. Because of his commitment and loyalty shown to First Supply over the years, we can say without a shadow of doubt, that we are well suited for success now and into the future.
Mike Hickok has always shown a willingness to step into any area of the business. His tenure at First Supply began in 1979 in La Crosse, WI where he was our flagship location's Office Manager. In 1988, Mike earned a promotion into the role of Branch Manager in Eau Claire, WI. In 1995, after creating a finely tuned operating facility in Eau Claire, Mike joined the Twin Cities, MN team, becoming the Branch Manager. Over the course of the next five years, Mike instilled his hard-working, team first mentality. In the year 2000, he was ready for the next step in his career – corporate leadership.
In 2000, it was time for Mike to bundle his 20+ years of local branch management experience and bring it to the Corporate Leadership level of First Supply as the Director of Purchasing. As with previous positions, Mike found success in his endeavors, so much so that in 2007, he took yet another step up the leadership level, taking on the challenge of being the Chief Operating Officer for First Supply. Mike truly relished this role, something that was apparent to anyone who met him. In 2014, Mike would step into his final and current role with the company as the Executive VP and Chief Purchasing Officer.
Mike Hickok is not one that simply kept his incredible depth of knowledge locked up at First Supply. He routinely joined many industry associations, including:
Mid America Supply Association
Affiliated Distributors Network Board Chairman
Affiliated Distributors Product Committee / Co-Chairman
Mike is one of the most committed individuals in the history of our industry. He is a prime example of how hard work, dedication, and loyalty lead to career success. His fingerprints are recognized on programs throughout First Supply. The relationships that he personally established with vendor partners over the years remain intact.
To say his contributions to First Supply have been appreciated would be an understatement. Mike has been an integral part of our company achieving its goals. While he may be taking on yet another new role, all of us in this industry are better off knowing that he helped lay the groundwork in which we operate today. The Poehling family, along with his strong base of loyal staff, thank him for all he has offered.
Here's to you, Mike. May you find enjoyment in your well-deserved retirement!
Established in La Crosse, WI, First Supply is a regional distributor with 47 locations, including 28 distribution branches, 1 CDC and 18 Kitchen, Bath and Lighting stores in the upper Midwest. Founded in 1897, First Supply employs over 650 people, is a family-owned, single source provider of HVAC-R, Builder, Plumbing, Lighting, Waterworks, Industrial PVF, Pump, Well and Septic supplies.